Our Dispensary
SafeMed Dispensary is a non-profit charitable community pharmacy established and operated under the Hong Kong Pharmaceutical Care Foundation.  Our registered pharmacists are dedicated to providing professional service including dispensing and drug counseling services to patients.  We educate patients on proper drug use with the goal of enhancing patient understanding of their medications and achieving effective drug treatment outcome.
Professional dispensing and counselling services by pharmacists
Service features
♦ Drugs prescribed as Self-Financed Items can be purchased with a valid doctor prescription at a subsidized price. All dispensed medications are clearly labelled with instructions.
♦ After dispensing of medications, our registered pharmacists would provide one-to-one drug counseling or teleconsultation to patients, advising patients how to take drugs properly and addressing drug-related enquiries.
Contact us (Dispensary Service By Appiontment Only)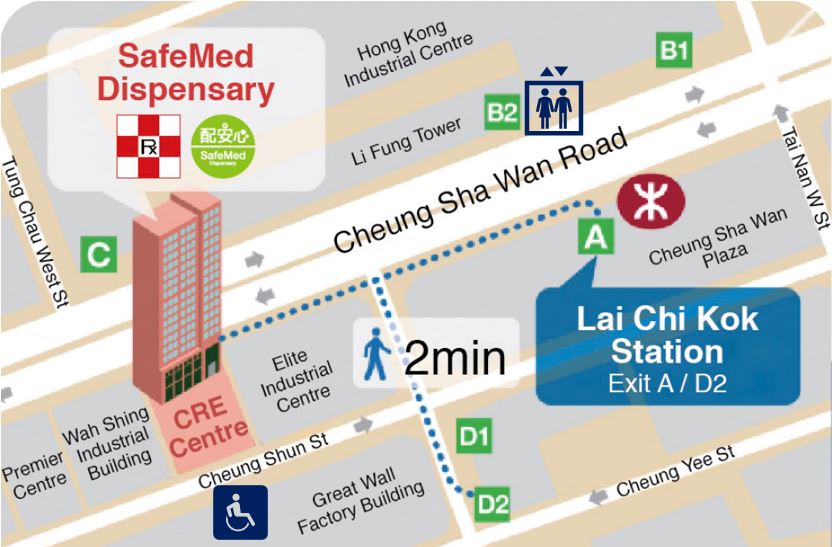 Address: Room 1, Workshop 3 & 4, 7th Floor, CRE Centre, 889 Cheung Sha Wan Road, Lai Chi Kok, Kowloon, Hong Kong
**The carpark entrance at Cheung Shun Street is barrier-free. (Elevator available at Exit B2 of Lai Chi Kok MTR Station)
Telephone: 2979 0380 (For enquiry & appointment)
Fax: 3708 8553
Email: info@pcfhk.org
Service Hours (By appointment only)
Monday to Friday: 10 a.m. to 1 p.m. & 2 p.m. to 5 p.m.
Closed on Saturdays, Sundays and public holidays
Declaration
The following drugs are registered prescription drugs in Hong Kong. Professional advice from doctors should be strictly followed when taking these drugs.
Decision on the treatment regimen for a patient needs accurate diagnosis from the doctor. As the responses to a medicine may vary amongst individuals, you should discuss with your doctor or pharmacist for details.